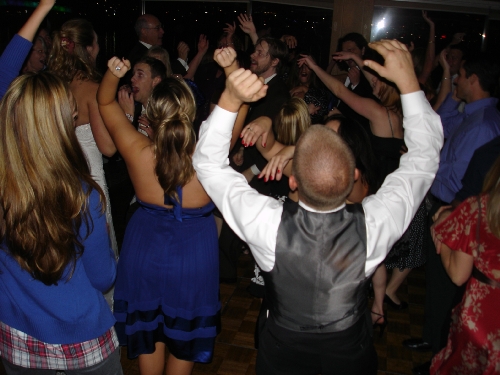 Chances are that your guests have been to many wedding receptions in the past. Here are some easy ways to make yours stand out without resorting to gimmicks, hackneyed displays or cliched ideas.
Pick An Unusual Entrance Song-
Check out your personal music collection and write down the first ten songs that appeal to you. Then decide which one of those would be best for you to walk into at your reception. Chances are you will come up with an Entrance Song nobody else has thought of. One rule of thumb is- the higher the energy of the song, the better. This applies whether it's Classical, Rock, Hip Hop, Swing, etc.
Don't Just Enter, MAKE An Entrance-
The difference can be subtle or more pronounced but it is important that you, in some way, visually acknowledge your guests as part of your Grand Entrance. This can be done by simply pausing to let them get a good look at you while they snap a picture, waving back at them or perhaps taking a bow or giving high fives. Now you have included your guests in the joy of the moment by making them PART of your entrance!
Change The Order-
Often the First Dance comes after the meal. But there's no rule that says you can't do it right after your entrance. The Best Man's toast can be at the beginning of the meal... or later, towards the end of it. Just because you throw your bouquet doesn't mean you have to do the whole garter removal and throwing thing. If you want, you can the pass on the removal and just have a garter toss or you can dispense with the entire formality and let the party continue uninterrupted.
That Sounds Different-
You have an opportunity to create a unique experience for your guests from the time they first step foot in your reception. It is important that your reception have it's own "sound". Preferable a unique mix of songs that people don't usually come in contact with at the office, the mall or while listening to the car radio.
You can turn your room into a romantic Spanish villa with flamenco fusion latin guitar. Or create a swinging, "Rat Pack" atmosphere with classic big band music. You could even transport your guests to a sunny, tropical seashore with the right mix of beach music.
We had one couple who got engaged in Italy and chose artists like Dean Martin, Andrea Bocelli and Louis Prima for their dinner music. The choice of sounds that sets the tone for your reception is limited only by your imagination. The goal is to give your guests something they haven't experienced at any other wedding they've been to.
Saying "Thank You"-
A simple "thank you" to your guests over the mic can mean so much. Publicly expressing your appreciation for their participation at your wedding is one of the classiest and most heartfelt things you can do. And in case you should miss anyone during your mingling time, you have already acknowledged your gratitude to them.
Choreograph Your First Dance-
A choreographed First Dance is always a special treat for you and your guests. We've seen waltzes, swing dances and even a tango or two. A bit of work is involved here as you may need to take some lessons and rehearse prior to your "performance". The pay off is creating an unforgettable moment for you and your guests. A moment that never fails to get a great response from all in attendance.
Use Creative Lighting-
The right lighting can add color and depth to any room. Colored beams of uplighting on the walls, a pinspot to highlight the cake and dynamic projection dance floor club lighting are some ways to create a special atmosphere. Well planned lighting has a dramatic effect on the look and feel of your reception.
Avoid Musical Cliches-
There is a place for some of those old party standbys like "Love Shack", "Mony Mony", "Girls Just Wanna Have Fun" and "I Will Survive". But your music list should also include more inventive choices. Jettison some of those played out tunes in favor of newer songs that have wide appeal include "Smooth" by Santana, "Hey Ya!" by Outkast, "Get The Party Started" by Pink, "Are You Gonna Be My Girl" by Jet and "Yeah" by Usher. Generally, the music can get more cutting edge as the night goes on.
Promo, Promo, Promo
Have you ever been to a wedding where you felt like you didn't know what was going on? Your MC should let your guests know what they have to look forward to later. Attendees will be less likely to leave early if they know that the cake cutting is coming up shortly. Or that if they go now they will miss the first dance. Get an MC who understands the power of the promotional announcement!
Simple but effective ideas like these can make a huge impact. Have a unique wedding by being creative and going with your instincts.
The Wedding DJ